Executive Committee Members
Mr. P.S. Duggal
Minar Travels (India) Pvt. Ltd.
29, Regal Building, Parliament Street,
Connaught Place,
New Delhi - 110001
Paramjit Singh Duggal, fondly known as PS in the travel industry comes from Banking background with a stint of 25 years of experience with ANZ Grindlays Bank( now Standard Chartered Bank). Executive Director in Minar Travels India (Pvt.) Ltd., He is humble and soft spoken and is a senior face in the industry. An upright person, he is always ready to come forward for industry cause anytime has been called for.
---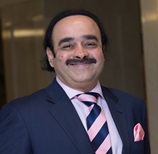 Mr. Raj Bajaj
Adventure World (India) Pvt. Ltd.
108 Pragati Tower,
26, Rajendra Place,
New Delhi - 110008
Tourism is in the DNA of Raj Bajaj.
Alumni of Delhi College of Engineering and Indian Institute of Technology, who transformed his prosperous engineering career with leading MNC of USA, onto tourism and hospitality by sheer "Call of Duty" by his family, for carrying on the mantle and legacy, laid by his legendary father Late Shri Badri Bajaj, past IATO president. This second generation hugely talented powerhouse is a teetotaler, religious, humble, always helpful and down to earth soul, who radiates lot of energy in serving the benevolent cause of IATO and the fraternity, with positive thinking ideas and valuable insights for the support and betterment of membership. An ideal tourism soldier who continues to instill his tourism experience of over 3 decades of professional talent, in the unification and service to the members of IATO and our Incredible Nation. Winner of numerous National Tourism Awards including some social and international are a testimony to the commitment and passion of the 3 Tourism & Hospitality brands which Raj drives forward in the leadership role, besides philanthropically CSR and charity initiatives of social commitments.
After having served in IATO's various committees in the past several years, it was a great delight for Raj to contribute in the mainstream of IATO EC during 2014-2016. To reinforce same passionate devotion, with great privilege and honour he continues to serve IATO during 2016-2018 as well, alongside the team. His efforts & Initiatives as Head of Railways, surface transport, committee in IATO are commendable.
---
Mr. Viney Tyagi
Uni Crystal Holidays Pvt. Ltd.
A - 201, Ansal Chambers - I,
3, Bhikaji Cama Place,
New Delhi - 110066
A Commercial Video Film Maker shot a Private Video on Tourism in 1988 which inspired him to get into Tourism. Since Tourism can't be learnt in class room, he started his learning as Tourist Taxi Driver turned Tour escort Then Finally started his own Company in Dec 1990 with Just One Single Client from Canada. Since then "No looking Back" , followed "Tourism as Religion" . Two Times National Tourism Awards- 1st Prize Winners. The Company Uni-Crystal Holidays Pvt. Ltd. with 26 years of Excellence in Tourism is known for perfection & delivery. Uni Crystal Holidays is Active member of IATO since 1995.
---

MR. DEEPAK BHATNAGAR
Aamantaran Travel Company Pvt. Ltd.
327, First Floor, Udyog
Vihar Phase-IV,
Gurgaon – 122016
Tel: 0124- 4600300
(M): 99 99 369 221,
Fax: 0124- 4600340
Email: md@aamantaran.in
---
MR. TONY MARWAH
Indian Travel Promotion Co. Pvt. Ltd.
Global Center, 327
Udyog Vihar, Phase-II,
Gurgaon - 122 016
---
Mr. Zia Siddiqui
Alliance Hotels & Resorts,
108, Tamoor Nagar,
New Friends Colony,
New Delhi - 110065,
---

Mr. Sunil C. Gupta
Travel Bureau
Near The Hotel Gateway Hotel,
Fatehabad Road, P.O. BOX 124,
Agra - 282001
---
Mr. P. Vijayasarathy
Benchmark Hotels Pvt. Ltd.
141, Ground Floor , Sant Nagar,
East of Kailash,
New Delhi - 110 065,
Tel: 011-41623448/41623449,
M): 98 11 284 529,
Fax: 011-41644787
Email: bhotels@gmail.com
---