IATO President and Office Bearers

Mr. Pronab Sarkar (President)
Swagatam Tours Pvt. Ltd.
2nd Floor, 23-A, Shivaji Marg
Najafgarh Road,Moti Nagar,
New Delhi - 110015
Mr. Sarkar graduated from Delhi University in 1975 with specialization in tourism as a vocational subject. After college at the age of 20, he joined the Tourism Industry & worked in an esteemed tourism company in New Delhi. He is one of the founder members of Destination Management Company "Swagatam Tours Pvt. Ltd." which was established in 1986. The main operation of the company is inbound tourism meant for bringing tourists from worldwide nations. Mr. Sarkar has been recently elected as the President of IATO, prior to which he was the Hony. Secretary. He has been associated with IATO for last 15 years and has served IATO in various capacities.
He has travelled abroad extensively and has visited many foreign countries for growing his venture and promoting Indian tourism. Presently he is working towards generating business from Middle East, Far East, Australia, New Zealand, USA, Canada and UK regions. He has a good reputation and is a well-known personality in tourism industry due to his ethical business practice. He has in-depth knowledge in tourism field. He believes 'Knowledge is to share' and actively participates in contributing his knowledge and experience to the younger generation to develop the career in tourism industry. He is always helpful to the needy and poor people. He has an NGO "Social Interactive Training and Education" to help poor children and running free coaching center for BPL students.
---
Mr. E.M. Najeeb (Senior Vice President)
Airtravel Enterprises India Ltd.
First Floor, New Corporation Building,
Palayam,
Thiruvananthapuram– 695033
Chairman - Airtravel Enterprises Group of Companies
Business interest in Airtravel, Tourism & Leisure, Hospitality, Tourism Consultancy, Advertising, Event Management, Housing and construction, Information Technology, Logistics, and Healthcare.
Expertise in Management, Tourism Management.
Main Initiator of the Public-Private partnership in the Tourism industry in Kerala . One of the frontline players in forming the innovative 'Kerala Travel Mart', the mega promotional tool of the Tourism industry in Kerala. Pioneered Helicopter Tourism, Medical Value Travel, and Golf Tourism in Kerala.
Business presence in Delhi, Mumbai, Chennai, Hyderabad, Bangalore, Coimbatore, Kannur, Calicut, Cochin, and Trivandrum. Overseas Associate offices in AbuDhabi, Dubai, Sharjah and Mussafah.
Tourism Expert Member in various Government Committees. Committed campaigner for environment and ecology. Public speaker, writer, and developmental enthusiast.
BUSINESS
Founder Chairman and Managing Director - Airtravel Enterprises India Limited:
Airtravel and leisure company established in 1976 with offices at 11 locations across India.
Group Chairman - The Great India Tour Company Private Limited:
Premier Tourism, Leisure and Destination Management Company, Government of India accredited. Winner of the 'Best Tour Operator Award' of the Government of Kerala continuously for four years. Winner of the Galileo Express Award for the Best Regional Tour Operator, for the years 2006 & 2008. Offers Inbound, Domestic and Outbound Tours.
Executive Director - KIMS Health Care Management Limited:
A chain of 6 multi-specialty tertiary care hospitals in India and 5 hospitals in the GCC countries. Also a Cancer Care Hospital in Trivandrum.
Chairman - Green Gateway Leisure Limited:
Hospitality company promoting the 168 key deluxe five star beach and backwaters resort and spa in 45 acres of land at Bekal, Kasargode, North Kerala.
POSITIONS HELD
Individual Expert Member - National Tourism Advisory Council (NTAC)
Member of the Tourism Advisory Committee, Government of Kerala.
Senior Vice President- IATO
President, Confederation of Kerala Tourism Industry ( CKTI )
President - Kerala Medical Value Travel Society
Vice Chairman of the Trivandrum Agenda Task Force (TATF), an organization of leading businessmen and industrialists working for the development of Kerala and Trivandrum.
Regional Chairman IATO - Southern region and former Chairman - Kerala Chapter.
Elected member- Kerala State Council - CII.
Convenor - Healthcare Panel - State Council of CII - 2017-18
Board Member and Member of the Academic Council- Mar Ivanios College ( Autonomous College)- Board of studies for English.
Patron, South Kerala Hoteliers Federation (SKHF)
Member- Governing Council of Tourism & Hospitality Skill Council (THSC).
Former President of Kerala Travel Mart- KTM for the past six years.
Past President & Managing Committee Member- Trivandrum Management Association.
Former President Trivandrum Chamber of Commerce and Indutry (TCCI)
Former Secretary of Trivandrum Golf Club.
Former Member of the Syndicate, Cochin University of Science & Technology, Kerala
Former Member of the Committee on State Level 'Responsible Tourism' constituted by the Department of Tourism.
Former Member-Task Force for the Development of Tourism and Smart Waterways in the State Planning Board.
Former Member of the Faculty of Social Science, Cochin University of Science & Technology (CUSAT) Kerala
Former Member Managing Committee of Trivandrum International Airport Development Society (TRIDAS), constituted by the State Government.
Former Member of the Board of Studies in Business Management, Kerala University.
Former Member of Advisory Committee, and visiting faculty of 'Kerala Institute of Travel & Tourism Studies (KITTS)', a Government of Kerala undertaking.
Former Member of the Board of Studies, Mahatma Gandhi University and Kannur University, Kerala
Former Member of the Tourism Expert Committee, ASSOCHAM, New Delhi
CREATIVE PURSUITS
Has contributed scores of articles in various magazines and publications in India and abroad.
Public speaker, literary enthusiast, and creative writer.
RECOGNITIONS
A goodwill ambassador of many causes in the business, cultural and social field.
Selected among the Travel Industry's 100 most Influential Persons - Award Winners in the category - Outbound Tour Operators, in the survey conducted by OTM, Travel News Digest Publication with Media Partners NDTV Profit.
Received over 100's of awards and recognitions for for Business excellence from leading Airlines in the tourism industry.
Tourism Award for several years from Kerala Government, and National award for one year.
Management Leadership Award for the year 2003-2004 from the Trivandrum Management Association (TMA)
MKK Nayar Memorial Productivity Award, by Kerala Productivity Council.
Conferred the honour of "Professor Emeritus" by the Korean Medical Tourism Association in 2009.
Won the Mother Teresa Award 2011 by the Socialist Samskara Kendra for the contributions rendered to the Socio Cultural causes
World Malayalee Council Business Award - 2011 for contribution to Travel & Tourism.
Business Excellence Award - 2013 by Trivandrum Chamber of Commerce & Industry.
Won the "Gallery of Legends" award of South India Travel Awards- 2015
Indywood Business Excellence awards-2018 by the Indywood Billionaires Club
PERSONAL PROFILE
Graduate in English literature from Kerala University, Postgraduate Diploma in Journalism from Bhavan's Rajendra Prasad Institute of Communication & Management, and MBA from the New Port University, USA.
Married to Dr. P M Saffia MS MCH, Former Principal and Professor & Head, Department of Plastic Surgery, Government Medical College, Trivandrum. Presently Sr. Consultant - Plastic Surgery and Vice Dean - Academics - Kerala Institute of Medical Sciences ( KIMS)
Two Sons - Zaheer E.N (B. Tech, MBA), Executive Director - Airtravel Enterprises India Ltd and Tariq E.N (B. Tech), Head - Operations - Kerala Institute of Medical Sciences- Kollam.
Family- Mrs. Sherin Zaheer w/o Mr Zaheer and two children Manha and Innaya.Mrs Siju Tariq w/o Mr Tariq and daugter Nezha.
Active Golfer.
---

Mr. Rajiv Mehra (Vice President)
Uday Tours & Travel Pvt. Ltd.
10/2459 , Beadonpura
Karol Bagh,
New Delhi - 110005
Graduated in Economic (Honours) from Delhi University (Hans Raj College), Rajiv Mehra is the Director of Uday Tours and Travel Pvt. Ltd., New Delhi. He has 39 years of vast experience in the tourism industry. He did his schooling from St. Columba's, New Delhi. He joined the tourism Industry in 1977 and later set up his own company i.e. Uday Tours and Travel Pvt. Ltd. in 1990. He is currently the Vice President of Indian Association of Tour Operators (IATO). Prior to being elected as the Vice President, he was the Executive Committee member of IATO. He has been associated with IATO for last 24 years and was especially contributing for IATO annual conventions in a big way. He has extensively travelled and has visited over 30 countries of the world.
---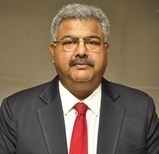 Mr. Rajesh Mudgil (Hony. Secretary)
Planet India Travels Pvt. Ltd.
6, DDA Flats ,
Golf View Apartments, Lado Sarai,
New Delhi-110030
Rajesh Mudgill is an alumni of Faculty of Management Studies of Delhi University. He is in tourism business for more than three decades. Having lot of first to its credit such as organizing Mahser Fishing in India, he also tried to promote rafting commercially on Indus river way back in 1984. He established his company Planet India Travels Pvt. Ltd., in the year 2000, which is recognized by the Ministry of Tourism, Govt. of India. Planet India Travels is the winner of National Tourism Award in the category of Most Innovative Tour Operator.
He is also responsible to bring Geejgarh, a tiny village in Dist. Dausa on the world tourism map. He established the first ever camp on Sam in Dist. Jaisalmer, Rajasthan where today more than 32 camps are there.
Mr. Mudgill is a keen wildlife and adventure enthusiast and like travelling. He is also very fond of cricket, badminton, river rafting, trekking.
He is presently the Hony. Secretary of Indian Association of Tour Operators (IATO) and has been associated with IATO for over two decades in various capacity.
He has held previously various positions like:-
Executive Committee Member of Faculty of Management Studies Alumni Association (FMSAA).
Executive Committee Member of Delhi Mountaineering Association.
Co-Chairman, Tourism Development Committee, Indian Chamber of Commerce & Industries (ICCI).
Vice President, Association of Domestic Tour Operators of India (ADTOI).
---
Mr. Ravi Gosain (Hony. Treasurer)
ERCO Travels Pvt. Ltd. ,
C-53, 1st Floor, Shashi Garden,
Near Pocket- 5 Gurudwara,
Mayur Vihar, Phase-I,
New Delhi - 110091
Post Graduate in Tourism (Master of Tourism Administration from Jiwaji University, Gwalior)
Worked only 3 years in various Travel agencies in Delhi before starting his own inbound Travel & Tourism business at the young age of 26. Extremely self motivated and positive person never looked back and since then successfully running his Tourism business. Awarded twice National Tourism Award by Ministry of Tourism, govt. of India in 2009 & 2014.
Hardcore marketing professional, Social media savvy and Travel enthusiast. Personally he has travelled to all continents of the world with more than 85 countries for promotion of India tourism as well as visiting their tourism sights. His passion for travel and sharing his experience with Indians encouraged him to start the outbound operations simultaneously in 2014.
He is a Limca book record holder, part of first Indian self driving expedition to Icelandic Glacier Langjokull, the second largest glacier in Iceland. Drove 1032 kms in 7 days, special four wheel drive vehicle (arctic trucks) in 2015
Actively involved in IATO (Indian association of Tour Operators) since 2011 when elected to executive committee. He was an Active EC member, Joint secretary and served many sub committees of Iato. His commitment and dedication for the travel and tourism industry remains on priority. So apart from his Travel business, Industry association affairs he is regularly visiting many colleagues and universities for lectures and taking motivational classes.
He is also socially active in Uttarakhand, where he founded NGO - "Nav Jyoti our samridhi Samiti" in Village Kandhara, Pauri Garhwal in 2009, which focuses on women empowerment, health and child education. Under this NGO he operate a middle school in Kandhara, Pauri Garhwal, (1st to 8th standard) with over 100 students.
---
MR. RAJNISH KAISTHA (Hony. Joint Secretary)
PARADISE HOLIDAYS (I) PVT. LTD.
312-ANSAL CLASSIQUE TOWER,
RAJOURI GARDEN,
NEW DELHI - 110057
---
Mr. Subhash Goyal (IMM. Past President)
Stic Travels Pvt. Ltd.
G-55, Connaught Circus,
Opposite Palika Parking Exit Gate,
New Delhi - 110001
Dr. Subhash Goyal, PHD, M.B.A, B.Com. (Hora Gold Medalist from Sri Ram College of Commerce) is the Chairman of STIC Travels Group, one of India's biggest travels Group with branches in all the major cities of India. Representing some of the world's best brands like United Airlines, Ethiopian Airlines, Air China, Srilankan Airlines, Holland America Cruise Line, Europcar, Sal Tours, Wyndham Group of Hotels, etc.He is the Immediate Past President of the Indian Association of Tour Operators (IATO), and has also served as IATO's President for more than ten years. Dr. Goyal is the Chairman of Haryana Tourism Mart and the President of The Confederation of Tourism Professionals of India.
Dr. Goyal is the member of Confederation of Indian Industry (CII) Expert Committee on Tourism. He is also the Chairman of the Civil Aviation & Tourism Committee of the Indian Chamber of Commerce & Industry (ICCI). He is also the Advisory Board of several Govt. bodies and contributes frequently to National dailies like Hindustan Times, Economic Times, Times of India & various Travel & Trade Magazines on tourism/ aviation subjects. Mr. Goyal is a well-known TV personality frequently appearing on ABP News, ZEE News, Aaj Tak, CNBC, CNN-IBN, NDTV, DD News for interviews/ discussions/ talks etc. Dr. Goyal is an author of a book entitled "Poverty Eradication & Economic Development Through Tourism" which has won him wide recognition and acclaim.
---