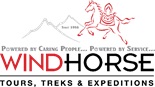 WIND HORSE INDIA TOURS
About WIND HORSE INDIA TOURS:
About WIND HORSE INDIA TOURS:
With a small group of fervent guides and travel experts, Wind Horse Tours was officially launched in 1998. Since then we have been doing an honest business of travel and in that time, we have seen travelers bridging gaps between faiths and cultures and proving thereby that we live in a small world, a world with both constructive similarities and fascinating differences. For us, travel is about experience; the experience of becoming involved with a place and its people and therefore bringing you closer to cultures, cuisines, traditions, natural beauty and change.
---
Specialization Detail:
We enjoy bringing you trips and are dedicated to using our joint expertise and experience to offer you some of the best journeys in India and the Himalayas; Bhutan, Nepal, Sikkim-Darjeeling, Ladakh and Tibet.
As a cost effective measures, we refrain from mass advertising, and instead focus on guest service. We believe in building satisfied customer; that spread word for us. It's the way we do business, and it has been working for us.
---
Brief details about the services offered:
Small group journeys, Private custom trips, Trekking, Mountain Biking, Birding, Bhutan Horse riding & Ranch, Deluxe Camping, Motorcycle trips and Cultural Sojourns.
---
Contact Details:
Name of the Company: WIND HORSE INDIA TOURS
Contact Person: MR. SANTOSH GUPTA
Designation: PARTNER
Street Address: B - 3 / 36, FIRST FLOOR, SECTOR 16 ROHINI
City: NEW DELHI
State: DELHI
Pincode: 110 089
Email: india@windhorsetours.com
Phone: 0091 - 11 - 2729405 / 43306755
Mobile: 0091 - 991 035 5477 / 956 042 7013
Website: www.windhorsetours.com