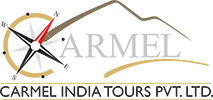 CARMEL INDIA TOURS PVT. LTD.
About CARMEL INDIA TOURS PVT. LTD.:
India is among the most colourful nations in the world & boasts of a rich history, culture and heritage. You can relax while on vacation to India knowing that informed, friendly specialists are available 24/7 to provide expert knowledge on unbelievably diverse locations. Come join us on an incredible journey. Carmel India Tours is a fast growing Tour Operator with a mission. We are based in New Delhi, INDIA and supporting branches in Mumbai & Kerala. We are recognised by Department of Tourism (DOT) , affiliated to IATO as an allied member and we are proud members of ASTA.
---
Specialization Detail:
Carmel India Tours, an inbound tour operator in India, provides you the best of travel services in India. We take pride in escorting our guests and enabling them to discover the real India in the best possible way. India's mysticism built on its legacy of history, rich culture, heritage, religions, languages and people has always attracted and welcomed visitors to its shores. At Carmel India, we relive this tradition of "Atithi Devo Bhava" i.e. "Guest is God" and welcome you to Incredible India.
---
Brief details about the services offered:
Adventure Tour
Adventure
Archeological and Cultural /Traditional Tours
Ayurveda Package Tours
Backwater Tours in Kerala
Bird Watching & Wildlife
Buddhist Pilgrimage
Camel / Jeep / Elephant / Horse Safaries
Car & Coach Hire
Conferences
Conventions
Cycling Tours with Deluxe Tents
Educational Tours
Fleet of Luxury Cars
Family Tours
Golf Tours
Homestays Experiences
Hotel bookings
Inbound Tours
Incentive & Cruises
International & Domestic Air Ticketing
Leisure Holidays
---
Contact Details:
Name of the Company: CARMEL INDIA TOURS PVT. LTD.
Contact Person: MR. BOBY K. MATHEW
Designation: MANAGING DIRECTOR
Street Address: B-2/B-3, ASHISH COMPLEX, NEAR AXIS BANK MAYUR VIHAR, PHASE-I
City: DELHI
State: DELHI
Pincode: 110091
Email: info@carmelindiatours.com
Phone: 0091-11-40591595, 42058095
Mobile: 0091-9716174999
Website: www.carmelindiatours.com